Larry MacTavish, DPM, FACFAS | Scott Margolis, DPM, FACFAS
Jerry Miles, DPM, FACFAS | Jason Armstrong, DPM, FACFAS
Turner Butts, DPM, AACFAS | Scott MacTavish, DPM, AACFAS
Jerry Miles, DPM, FACFAS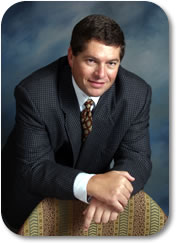 Dr. Jerry Miles attended Podiatric Medical School at Barry University where he graduated in May of 1995. He then completed a two-year surgical residency in Houston, Texas at the Houston Podiatric Foundation before joining the Foot and Ankle Centers in 1997.

Dr. Miles is Board Certified by the American Board of Podiatric Surgery and is a Diplomat of the American College of Foot and Ankle Surgeons. He has served on many committees including serving as Chairman of the Surgery Specialties Committee, as a member of the Infection Control Committee and Credentials Committee. He also served on the Medical Advisory Committee for Texas Workers Compensation.

When he's not helping patients, he enjoys traveling, camping and spending time with his family. Currently he lives in the Kingwood area with his wife Cindy and their son.