Larry MacTavish, DPM, FACFAS | Scott Margolis, DPM, FACFAS
Jerry Miles, DPM, FACFAS | Jason Armstrong, DPM, FACFAS
Turner Butts, DPM, AACFAS | Scott MacTavish, DPM, AACFAS
Larry MacTavish, DPM, FACFAS
Partner, Foot and Ankle Centers of North Houston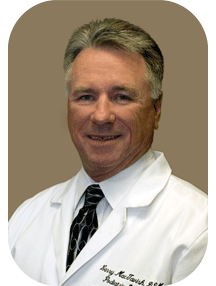 Dr. Larry MacTavish is a Board Certified Surgeon who graduated from The California College of Podiatric Medicine in 1974. He is a Diplomat of the American College of Foot & Ankle Surgeons. Dr MacTavish started a private practice as soon as his residency was completed.

Dr. MacTavish is a prominent podiatric physician and surgeon in the Northwest Houston area and has been nationally recognized as a civic and podiatric political leader. He was honored in the Top 100 VIP podiatrists in the United States and has also been a delegate of the APMA for the past twenty-eight years.

Dr. MacTavish has served locally on the Board of Directors for Northgate Country Club, Chief of Medical Staff at Texas Outpatient Surgical Center, and on various committees at Houston Northwest Medical Center Hospital. He has also served as chairman of numerous committees within both the Texas and American Podiatric Medical Associations.

He currently resides in the Houston area with his wife Michelle and has four children. He enjoys boating, golfing, fishing and hunting in his spare time.